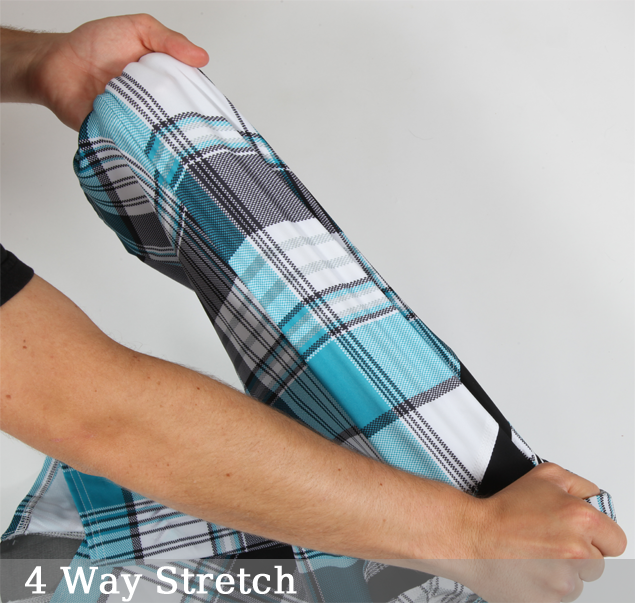 If you've been shopping around for boardshorts, you may have been hearing a lot of talk about stretch. 2-Way Stretch, 4-Way Stretch, 6-Way Stretch? How many ways can one short stretch?! And how much stretch do you really need?
Do I need stretch boardshorts?
Whatever happened to regular old boardshorts? Well they still exist, and they are made out of a fabric that is 100% Polyester. These shorts are awesome, and often boast a lower price than their stretchy counterparts. But these days, the majority of all the latest boardshorts seem to feature some sort or flexibility or stretch factor. The days of only 100% polyester shorts are long gone. The latest tech features 4-Way Stretch that increases comfort and range of motion. Stretch fabrics are also much lighter than traditional Polyester, giving the sensation that you are surfing, wakeboarding, or swimming with nothing on at all. You might ask, do I really need my shorts to stretch? Well, you don't know what you're missing out on until you wear a pair of these heavenly duds.
How do they make it stretch?
You can tell if your boardshort material is 4-Way Stretch if it gives when you pull it lengthwise and widthwise. You can also peek at the tag to see if the material contains Nylon, Spandex, Lycra, or Elastane. All of these materials make up the secret ingredients in a premium stretch boardshort.
How many ways can you stretch? 2, 4, 6 Ways?
The most common form of stretch boardshort material is 4-Way Stretch, but certain brands have produced their own variations on stretch to give users more options. Brands like Hurley and Quiksilver have produced 2-Way Stretch material, that have the benefit of stretch without the super flexibility of 4-Way (see Quiksilver's Diamond Dobby on the Quik NFL shorts). Other brands are claiming sky high stretch numbers, like Volcom's 6-Way Stretch material, which is really just 2-Way Stretch on the front panels and 4-Way Stretch on the back.
Patented Types of Stretch Material
Quiksilver Diamond Dobby: Known for it's groundbreaking diamond embossed pattern, the Diamond Dobby is quickly becoming a popular material among hardcore boarders and leisure swimmers alike.
O'Neill Freak Series: The tried-and-true Superfreak material is the epitome of luxury: a thick, stretchy material that couples with neoprene for ultimate fit. The Hyperfreak is a little bit thinner and a whole lot stretchier, for guys who want shorts in a nearly-bathing suit material.
Hurley Phantom: A fan favorite, the Hurley Phantom is equipped with mega technology that is best summed up by Hurley themselves: "Originally developed for speed swimmers, this material is arguably the most advanced fabric available on today's surf trunks. It's so flexible and light that it feels like you're wearing nothing at all."