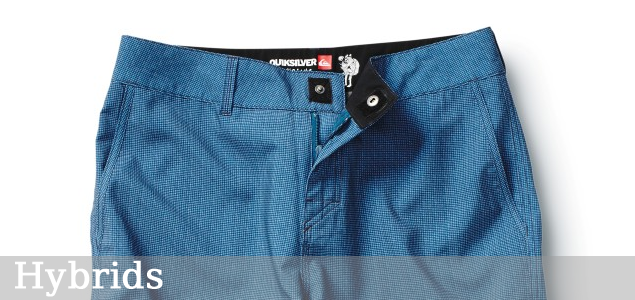 When you get out of the water and head into your favorite taco shop, do you ever feel like people are wondering why you're wearing boardshorts? Ya, neither have we. But if you want the functionality of a boardshort with the styling of a normal walkshort, then the boardshorts world has answered your prayer! These centaur-like creations combine premium fabrics with traditional walkshort features like a snap-button closure, zipper, and belt loops. Afraid they might fall off in the water? Some feature an interior drawstring to make sure you don't lose your shorts after a little too much splashing. Just make sure to remember to take out your wallet and phone before you hop in the water!
So what makes a pair of boardshorts a Hybrid?
Hybrid shorts boast a pattern, cut, and fit similar to casual shorts, but in a premium boardshort material. That means that you'll have all your standard short features like belt loops, zip fly, and front pockets, but in a Polyester, Surf Suede, or 4-Way Stretch material that allows for quick-drying, sweat wicking, and improved comfort. Many Hybrid shorts come in slick designs, like basic black, horizontal stripes, or a neutral solid, but contain hidden boardshort features like mesh pocket-lining (for draining) and zippered pockets.
Where do you wear Hybrid Shorts?
So where do you wear these bad boys? Hybrids are perfect for beach-goers who head straight to dinner afterwards, guys who like to work out but don't like to look goofy or (God forbid) wear spandex, or even your everyday dude who just wants a little more comfort.
Where can I find them?
You can find Hybrids from just about every surf brand, but if you're having a hard time deciding, here are a few of our favorites:
O'Neill Jort, which sports an interior drawstring and a secret bottle opener / mini wrench tucked away in the back pocket
Quiksilver Chunder, which comes in stylish stripes and a supersoft Super Suede
O'Neill Triumph, a great plaid short that comes in a range of colors
Hybrids FAQ
Q: Do hybrids have lining in them?
No. Hybrids are similar to boardshorts in that they have no lining and can be worn with or without underwear.
Q: Do hybrid shorts look identical to walk shorts?
It depends. Many manufacturers vary their Hybrid styles. Many look almost identical to walk shorts, while some are much more similar to boardshorts with the addition of some standard walk short features.